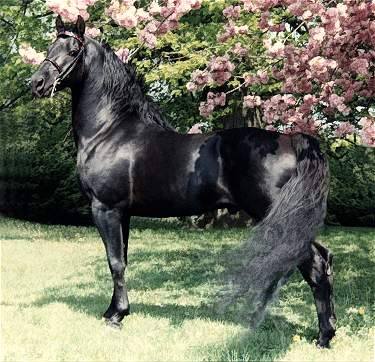 wer er war
30.05.1976 - 03.11.1997
155 cm
 With over 265 foals, Regency is Canada's best known and most popular breeding stallion.  He consistently rated among the top ten most popular Morgan breeding stallions in the world.

Regency's sire is the incomparable Beamington, five times rated the "Sire of the Year", a standard that still stands.  Beamington was the first Morgan to sell for over one hundred thousand dollars and for over a decade the only world champion to beget world champion offspring.

Regency's Dam is by the Immortal Flyhawk.  This great sire went on to become a legend in his own time as the most influential working / breeding / show stallion of the breed.

Regency produces proud and truly versatile individuals in the fine Brunk tradition.  He possesses the athleticism, versatility and dynamic motion of the Flyhawk horses and consistently passes it on to his foals.  His offspring are competing and winning at Morgan, Open and Government Breed Improvement shows in almost every discipline.  These same horses are generally owner trained & presented and are used at home, for trail, riding, hunting, packing, family horses etc.
Sohn von:
Beamington und The Black Rose
Großvater von:
JMF Hot Ice Black Fire
JMF Black Shadow
JMF Black Ivory
UL Black Temptation
UL Black Rose